Chipping Campden self catering in the Cotswolds with Cotswold Charm couldn't be more tranquil. Almost no matter where you are in the Cotswolds there are so many things on your doorstep including picturesque market towns and picturesque villages and lovely stone cottages all around.  Whatever your interests, our recent blog post 'Why Visit the Cotswolds' clearly demonstrates, that you will never be short of things to do and see when you stay in the Cotswolds with Cotswold Charm.
If you want to do and see things in The Cotswolds, you may ask "Why Chipping Campden with Cotswold Charm?", and to our mind, the simple answer is that there is no better way of ensuring that you start with the best location and cottages to use as your base.
Do not just take our word for it, have a look through our testimonials to see what our customers think
Chipping Campden Self Catering Holiday Cottages with Cotswold Charm: Experience the Cotswolds on Your Doorstep

Compared to hotels or B&Bs, Cotswold Charm's AA Four-Star rated Chipping Campden self catering holiday cottages offer great value for money, especially for longer stays, and even more so for families and larger groups.
Instead of just somewhere to sleep, you get a real living space. Couples, families and groups who just want to be left alone to enjoy their holiday together can so easily do so.
Cotswold Charm's Chipping Campden self catering cottages give you the freedom to come & go as you wish and to indulge in your own personal interests and to be as active or as private as you want to be.
Generally in a fantastic holiday and homely setting, self catering cottages allow you to enjoy the best of all worlds where you do not have to fit in with restaurant meal times or worry about having to abide by the hotel's schedule – you can eat your meals when you want to, and can come and go whenever it suits you during the day.
Similarly, your children can eat from your choice of food when you want to and then you can get them tucked up safely in bed before you settle down for a relaxing dinner and evening or come back from one of our lovely walks in the local area.
In fact, Cotswold Charm's Chipping Campden self catering cottages just about suit everybody!
Cotswold Charm's 20+ Year's Experience
Why would you stay in the Cotswolds with Cotswold Charm, firstly it started with the then recently upgraded Stable Cottage back in 1999 and since then it has established an extremely enviable and ongoing reputation with a 4-Star rating by both Visit England and The AA over the last 20 plus years.
Cotswold Charm's Online Booking System
Cotswold Charm's website is an easy-to-use system so that you can book your Chipping Campden self-catering experience with ease. We have worked tirelessly for the last 15 years to seamlessly provide you with details of the cottages, the price for your intended stay and if you decide to book an almost instant booking.
Just click on your arrival and departure dates to bring up a price and then complete the remainder of the form. You can click on PayLater and then use electronic banking or call Michael on 0788 964 9812 to pay by card.
Cotswold Charm's Location
Cotswold Charm has always aimed to and been able to provide a very special selection of Chipping Campden's self-catering holiday cottages based around Top Farm's 17th-century farmhouse. Location, location and location are all extremely important for an enjoyable Cotswold holiday and in Chipping Campden and Cotswold Charm, you have a perfect central location and the perfect base from which to enjoy the Cotswolds, Shakespeare's Stratford upon Avon, the Cathedral Cities, Arts and Crafts, tea houses, plus Blenheim Palace, many local National Trust properties and Cotswold villages.
Have a read of our blog here 'Why Chipping Campden' for even more information on the area and picturesque towns.
In turn, most of Cotswold Charm's cottages are within an easy five-minute walk of Campden's historic High Street and its numerous Listed Buildings and a tremendous selection of restaurants & shops, thus meeting another reason for Why Stay in the Cotswolds with Cotswold Charm. Chipping Campden continues to be a vibrant market town even today but you can even escape to the little often explored hamlet of Broad Campden right on Cotswold Charm's doorstep too, a very peaceful village.
Cotswold Charm's Promise to You

We appreciate that in today's Covid19 circumstances your holiday time is even more precious than usual, and with our local knowledge, careful planning and preparation, we aim to deliver a service tailored to meet your individual needs and result in you really enjoying yourself and always wanting to return again and again.
Why Stay in the Cotswolds with Cotswold Charm is the query, Cotswold Charm answers this with three essential assets, good cleaners, knowledgeable hosts/owners and a variety of lovely cottages, each with its own character to attract you to it.
Cotswold Charm's Reputation for Cleanliness

Right back from when we started, the cleanliness of or cottages has always been all important to us and now with Covid19, it has never ever been more important to Cotswold Charm. Our cleaners are our most valuable assets and Cotswold Charm is extremely fortunate to have both excellent cleaners and cleaning procedures in place (See prepare for your stay here) as we strive to successfully answer your question of Why Stay in the Cotswolds with Cotswold Charm.
Michael developed the concept of Cotswold Charm as both a "homely agency providing the ultimate in customer service" and as a "whole family enterprise" in 1999 when part of Top Farm was sold for development and the monies used to save some of the run-down buildings and bring the old Campden Dairies office into active life as living accommodation in Stable Cottage. Mother Elsie was more than just a wonderful figurehead, sister Margaret looked after the décor, furniture and quality control, and brother Stephen filled in with the gardens and maintenance.
Cotswold Charm's Knowledgeable and Caring Self Catering Cottage Owners
Our lovely cottage owners are not just cottage owners interested in making a profit, they are interested and intimately involved in every aspect of each cottage, maintenance, décor, furnishing, equipment, facilities, and cleanliness; making sure that you as the customer enjoy and can make the most of every moment of your holiday, nothing will be too much trouble.
Pearl & John Brandreth
Tally Ho & Over the Arches
The first of our lovely owners that Michael is delighted to introduce our Pearl and John Brandreth who moved from Solihull to Chipping Campden back in 2003 when they purchased Over the Arches in Park Road and then came on board with Cotswold Charm to help with marketing. Pearl had been a bank manager and John managing director of a leisure business which included a golf course amongst other enterprises. In more recent times he has looked after improving and developing their cottages which also include Tally Ho in Dyers Lane and a lovely old thatched cottage in Lulworth Cove.
Having helped out at Chipping Campden's Tourist Information Centre for many years, Pearl has a wealth of local knowledge. You will be totally spoiled by the many personal touches she has introduced including s a bountiful welcome basket waiting for you. As the many testimonials point out, she has provided outstanding hospitality right through to today. She is one of those really live and loveable reasons Why Stay in the Cotswolds with Cotswold Charm, should be at the very heart of your first holiday choices.
Jeff and Joan Vaughan-Hayes
Cosy Corner & Meadow Cottage
Both former teachers, Jeff and Joan Vaughan-Hayes are "hands-on" owners of Cosy Corner and Meadow Cottage in every aspect from the moment they receive your booking, right through until the time that you want to come back again and more! They regard every component and nuance of the cottage that helps to completely fulfil your expectations as being of the utmost importance.
They work as a well-organised management team; from cleaning, laundry, provision of consumables and interior design. Everything is extremely important to them to make sure that you get the most out of your holiday. Welcome basket including a complimentary bottle of wine, Nespresso facilities,
Margaret Moy
Stable Cottage
Michael's sister Margaret now owns Stable Cottage and has been the key in its development as a lovely historic holiday cottage over the years. To begin with, she hand waxed all the exposed original beams and timberwork, chose the décor and furnishings and clearly demonstrated that the cleanliness of the cottage was and still is her byword.
More recently in a major refurbishment, she has improved the central heating, double glazing, all three bathrooms/toilets and the kitchen (this includes a new oven, grill, hob and extractor fan). She remains committed to providing an enjoyable experience for all customers in this historic cottage.  You can read more about this in our history here.
Michael Haines
George Barn & Old Granary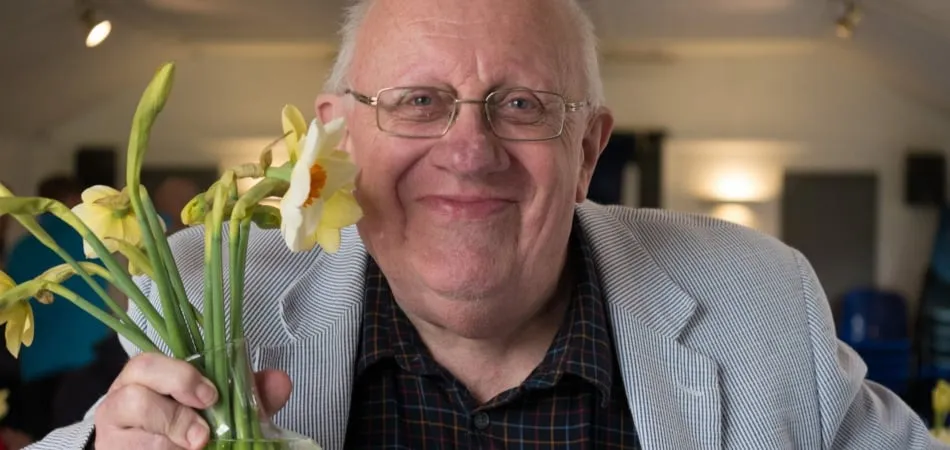 Michael retired from work in 2004 to concentrate full time on Cotswold Charm and has had a hands approach to developing every aspect of Cotswold Charm from 1999 right through until and including today. With a love of Chipping Campden and the local area and an appreciation that every holiday is precious, his aim has always been to deliver a service tailored to meet the individual needs of every customer which results in them really enjoying themselves and always wanting to return again and again i.e. making sure Cotswold Charm is an idyllic retreat.
Having previously lost a leg, he used the insight gained to set about expanding the original enterprise to support the many potential customers with physical and sight impairments by building Barn and Rick Cottages in the old farmyard and then completely rebuilding historic The Ewe Pen to meet the needs of physically challenged customers. These all proved to be very successful, but with rising interest rates becoming prohibitive and the writing already on the wall for the impending "financial crash", the two cottages were sold to balance the books.
After the passing of mother Elsie in 2009, in 2012 Michael set about converting the Cart Hovel from an office/workshop/store into a desirable and very flexible 4-bedroom unit with a level access ground floor which included a disabled kitchen, flexible lounge/diner and double bedroom with an ensuite wet-room. It was renamed George Barn in memory of his great grandfather and since then has provided a holiday haven for many people with a range of disabilities, always making sure that it meets the needs of their individual disabilities.
In 2013 he updated The Old Granary into an attractive cottage for two and then enhanced it further in 2015 by increasing the size of the lounge/kitchen/diner's window to provide a lovely view up the valley, adding an ensuite wet room and gas-fired central heating. With George Barn proving so popular with customers today, the little cottage has now become his haven.
Cotswold Charm's Cottages
As well as Cotswold Charm's 7 "4-star" cottages each having its own character and attributes, most are close enough together that between them they can be jointly booked to handle a range of different sized family groups. Between them, the individual cottages can sleep 2, 4, 6 or 8 persons in double beds.
Tally Ho
Tally Ho is set in a quiet location just 600 yards from the middle of Chipping Campden's High Street with a private garden and has everything that you might want and can comfortably cater for a couple with or without a child. The adjacent secluded garden is just the place to relax and enjoy the local wildlife and Cotswold atmosphere.
Over the Arches
Over the Arches in Park Road can sleep up to 6, backs onto the ancient Craves Field, is just 400 yards from the middle of Chipping Campden's High Street and can cater for up to six people. It is well appointed throughout, the ground floor lounge is lovely and light and enjoys a luxury king-sized sofa bed (and ensuite bathroom) accessed from a sun-drenched patio.
Cosy Corner
Cosy Corner is a first and second-floor apartment set quietly behind the High Street and the adjacent Noel Arms Hotel. With double and twin bedrooms, it has an exquisite décor and is furnished with a well-thought-out mixture of antiques and modern furnishing. A two-minute beautiful walk takes you to open fields overlooking much of Campden's early history.
Meadow Cottage
Meadow Cottage is set in beautiful countryside views near Charingworth Manor and just under a mile from the famous Ebrington Arms with a lovely garden. Charingworth itself is a very quiet little hamlet and this converted cow bier faces the sunny south and enjoys some tremendous views over lovely open countryside. As would be expected of Jeff and Joan, the furnishing and décor are extremely tasteful and the open log fire is extremely welcoming in the winter months and offer spacious living.
Stable Cottage
Stable Cottage is a very much modernised 1600s farmer's cottage that gets its character from many of the original timbers and stone walls. It is complemented by a delightful courtyard garden that sits in the sunshine for much of the day. The farmhouse-style kitchen sits as a natural feature in this lovely cottage. The lounge is cool in the summer and warm in the winter. The master bedroom displays many of the original oak timber and enjoys a kings size 4-poster bed and an ensuite bathroom.
George Barn
George Barn is a beautiful house with off-road parking.  George Barn's ground floor is designed to be completely wheelchair friendly and is a perfect Chipping Campden self catering location.
The wide front door allows normal level wheelchair access (the bi-fold doors can be opened for very large electric wheelchairs or beds), and all the furniture can be moved to provide the desired space for a wheelchair, the rise and fall hob/worktop allows you to cook from a wheelchair, the ensuite wet-room enjoys safety wall bars, wall mounted shower seat (and shower wheelchair) and a touch of luxury in a body drier.
The ground floor bedroom has a double electric profiling double bed and upstairs there are three ensuite (shower) double bedrooms on the first floor.